BEBOB presents new 24 Volt Battery Mount
bebob and ARRI have cooperated in order to meet the increasing power consumption of modern cameras and lighting with a sustainable solution. In close consultation with ARRI, our engineers developed the B-Mount – a new battery mount system that fulfills the power demands of today's equipment while providing maximum flexibility at the same time. ARRI will be using the B-Mount for all its future cameras.
The newly developed interface has several decisive advantages:
B-Mount batteries provide a dedicated mobile power supply for high-performance 24V devices. The new system is also equipped to support multi-voltage use (both 12 Volt and 24 Volt). This adaptability to the respective needs of compatible devices makes it possible to supply all devices on set with a single B-Mount battery system.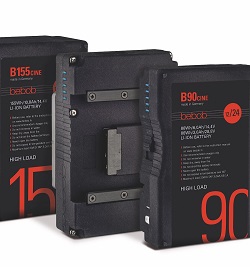 VELVET EVO 2
VELVETLight launches a 2×1 color panel resistant to rain
The Spanish company VELVETLight, formerly known as THELIGHT, changed its name to VELVET because of the great international success of this line of luminaires.
In the current edition of NAB they will present in Hall C11249 a new weather resistant luminaire called EVO 2 Color that stands out for its low weight versus light output and its ability to be controlled by any mobile device Android or IOS. Its main features are:
Technology 5 LED Full color RBG + W + CW
• VELVET wi-fi remote control via Android and IOS app
• 100% silent operation without fans
• 7kg of weight
• Incorporates Lumen Radio DMX-RDM
• Offers 100% power even with Vlock or Gold batteries
The 2×1 panel (60x30cms) entirely made of aluminum is designed to work on location and withstand harsh treatment and the most extreme conditions such as rain or shooting on dusty conditions.
The EVO 5 LED full spectrum technology produces a very wide range of colors and a white light of great purity with CRI 97, wide gamut chromaticity and allows to adjust the color temperature between 2,500 K and 10,000 K.
EVO 2 Color is a lightweight portable panel with a weight of 7kg and produces 900 Lux at 3 meters with a consumption of just 200W so that it can be powered at full power with standard Vlock or Gold batteries.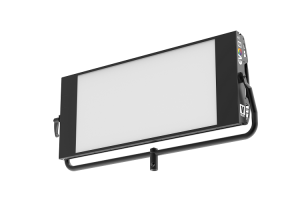 RØDE Wireless GO
Wireless GO is an ultra-compact digital wireless microphone system which is unique in its clip'n'go versatility, incredibly compact form-factor, and unmatched price accessibility. It's the perfect wireless mic solution for content creators in all disciplines: filmmakers, on-camera presenters, newsgatherers, vloggers and more.
The Transmitter (TX)
Measuring in at an ultra-compact 44mm x 45.3mm x 18.5mm and weighing just 31g, the Wireless GO transmitter (TX) acts as either a quick and easy clip-on wireless microphone, thanks to a high-quality built-in omnidirectional condenser capsule, or as the world's smallest beltpack transmitter for a lavalier microphone via the 3.5mm TRS input. The Wireless GO's quick clip-on capabilities make it perfect for run-and-gun journalists and vloggers in the field: never miss the action as it happens – no cables and great sound.
The Receiver (RX)
The RX is just as compact, measuring only 44mm x 46.4mm x 18.5mm and weighing only 31g, which makes your rig that much easier to carry and facilitates mounting on a range of camera gimbals and stabilisers. Its dual-purpose mount sits snug in your camera's shoe mount, or clips easily onto your camera strap or an item of clothing. The supplied 3.5mm TRS output cable plugs into your camera's audio input or, with the relevant available RØDE adaptors, into your recorder, GoPro, iPhone etc. There is also a three-stage output pad – 0dB, -6dB, -12dB – to tailor your output to your camera or recorder.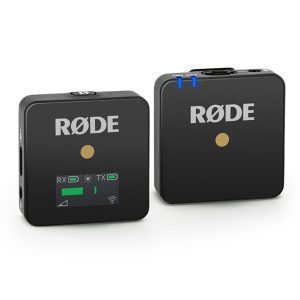 ATOMOS AtomX SDI for Ninja
New AtomX module brings SDI to Ninja V with a click
Introducing the Atomos AtomX SDI expansion module designed to turn your Atomos Ninja V into a pro video SDI powerhouse. The module adds the quality and convenience of SDI equipment and infrastructure connectivity in additionto its existing HDMI capability.
Monitor and record SDI up to 4Kp60, and go into or out of any SDI device including the popular Atomos Shinobi SDI pro monitor and Atomos Shogun Inferno, as well as legacy Atomos SDI products. This provides flexibility for any video or film production to allow all crew including directors, cinematographers, assistants and focus pullers to monitor and replay identical and calibrated content in HDR at the same time.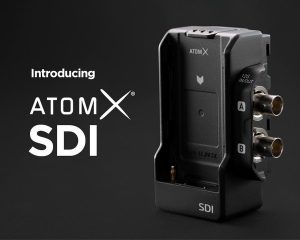 ATOMOS New Shogun 7, HDR Pro/Cinema Monitor-Recorder-Switcher
Introducing Atomos Shogun 7, a precision 7-inch HDR monitor-recorder-switcher designed for the film and video professional.
It can be used as either a stand-alone field monitor, recorder and switcher for event, documentary and live in-the-field storytelling; or as a tool for large-scale on-set episodic TV, film and cinema productions where multiple crew members such as focus pullers, grips and cinematographers require a consistent visual reference across the field monitor ecosystem.
Live multi-cam with real-time Dolby Vision output in the field
Shogun 7's portable size lets you monitor, analyze and tag while on set; and check how your content will look in your audience's home via real-time Dolby Vision output. Switch live between 4 x ISO SDI asynchronous video streams on the fly – ideal for streaming and recording sports, theatre and live company-wide presentations.
Single-camera storytelling in 4K, or 2K slow-mo
Capturing in 4K is now becoming a requirement for content streaming providers. With the latest HDMI 2.0v you can capture up to 4Kp60 on any available camera, or via Quad Link, Dual Link or Single Link. If slow motion capture is important to your production, Shogun 7 lets you capture 2K up to 240p – even in RAW. You can tag on-the-fly while recording for direct-to-edit look up in Final Cut Pro X, Adobe Premiere and Avid Media Composer.