2×1 color-tunable panel
EVO is an instrument made to extend your creative possibilities, to set up faster, and to remotely adjust on the fly on any location or any studio.
EVO offers everything you need from a professional color light: industry-leading output-to-weight and output-to-watt ratios, full output from standard 14.4V batteries, wireless control, solid reliability, silent fan-free operation and a weatherproof ergonomic housing.
Using the VELVET GOYA App on any Android or IOS mobile device gives you instant full control over any EVO panel. You can create, save, load or share your own gels or user profiles, and use the app's color-picker to recreate colors from a photo or image. Your creative possibilities are unlimited.
The quick, precise and shareable VELVET GOYA App takes control and color adjustment of the EVO panel to a new level. The HSI advanced mode even includes an intuitive and user-friendly 360º color sphere interface. And with the EVO, settings made in one mode can be fine-tuned in any other mode.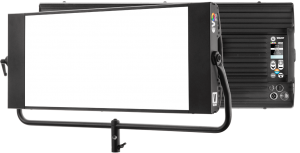 total control
EVO features wireless DMX from LumenRadio, and EVO is RDM-enabled for fast addressing and channel-assignment workflow. With the DMX master/slave function, start with one fixture and link several fixtures through DMX and operate them all in unison without a console!
 is a BLANK CANVAS
GEL mode lets you select from a wide variety of standard gels and practical light sources. EFFECTS are fully adjustable for color, speed and frequency.
The EVO 5LED technology lets you set your color in one mode and fine-tune it in any other mode, as well as layer any color over any white light color temperature.
You can further adjust gels or effects to create, save, load and share your own presets as user profiles, or use the VELVET GOYA color picker to recreate colors from a photo or an image.
Your creative possibilities are unlimited!

technical specifications
BEAM ANGLE 115º
COLOR TEMPERATURE continuously adjustable from 2500K to 10.000K
LIGHT INTENSITY dimmable 0 to 1000, smooth and flicker-free
GREEN-MAGENTA continuously adjustable from full minusgreen to full plusgreen
COLOR SPECTRUM full color spectrum R+G+B+W+CW with hue, saturation, and base color temperature control
CONTROL COLOR MODES CCT, HSI+, GEL, RGB+W+CW and EFFECTS modes
adjustments are laid over a base white light and can be transferred from one mode to another
CONTROL onboard control with color display, DMX/RDM through XLR5, LumenRadio wireless DMX/RDM, Art-Net, Wi-Fi, and the VELVET Goya mobile app
COLOR RENDERING exceeds 95 CRI and TLCI
DIMENSIONS 753 x 318 x 92mm / 29.6 x 12.5 x 3.6 inches
PANEL WEIGHT 6.9 kg / 15.2 lbs
PANEL + YOKE WEIGHT 7.6 kg / 16.7 lb
POWER 200W (1.8 Amps at 110 VAC)
POWER SUPPLY 24-35V DC (XLR3). VLock/ Gold Mount battery plate 90-264V AC 50/60Hz
LED RATED LIFE more than 50,000 hours
COOLING silent and fan-free passive cooling
PROTECTION IP54 rain and dustproof, indoor or outdoor use
CONSTRUCTION & FINISH fixture and yoke made of 100% black powdercoated extruded and sheet aluminum
RIGGING OPTIONS aluminum yoke with 16mm baby receptacles combined with 28mm junior pin, center ball-head mount, multiple ¼"-20 rigging points, double vertical yoke, pole-operated yoke.